How lovely are those nicely organized walk-in pantries on Pinterest?
I'm sure you have imagined yourself in one of those walk-in pantries before. But what can you do when your pantry is not exactly walk-in but reach-in?
Be thankful, get organized and make it work.
If you have a reach-in pantry like me, I understand your pain of not having enough space, and that's why I'm sharing this post to show you how to make it work.
Scroll down to learn how to make your small pantry work for you.
9 Tips on How to Make your Small Pantry Work for You!
Tip #1: Use Clear & Stackable Containers
I have a reach-in pantry and I know for a fact that using clear containers have saved me a lot of frustration. Being able to open the pantry door and see exactly what I'm looking for works well for me and I won't have it any other way. With clear containers you won't need to dig deep into your pantry to find what you need.
Be sure to use tall containers on the top shelf of your reach-in pantry to maximize vertical space.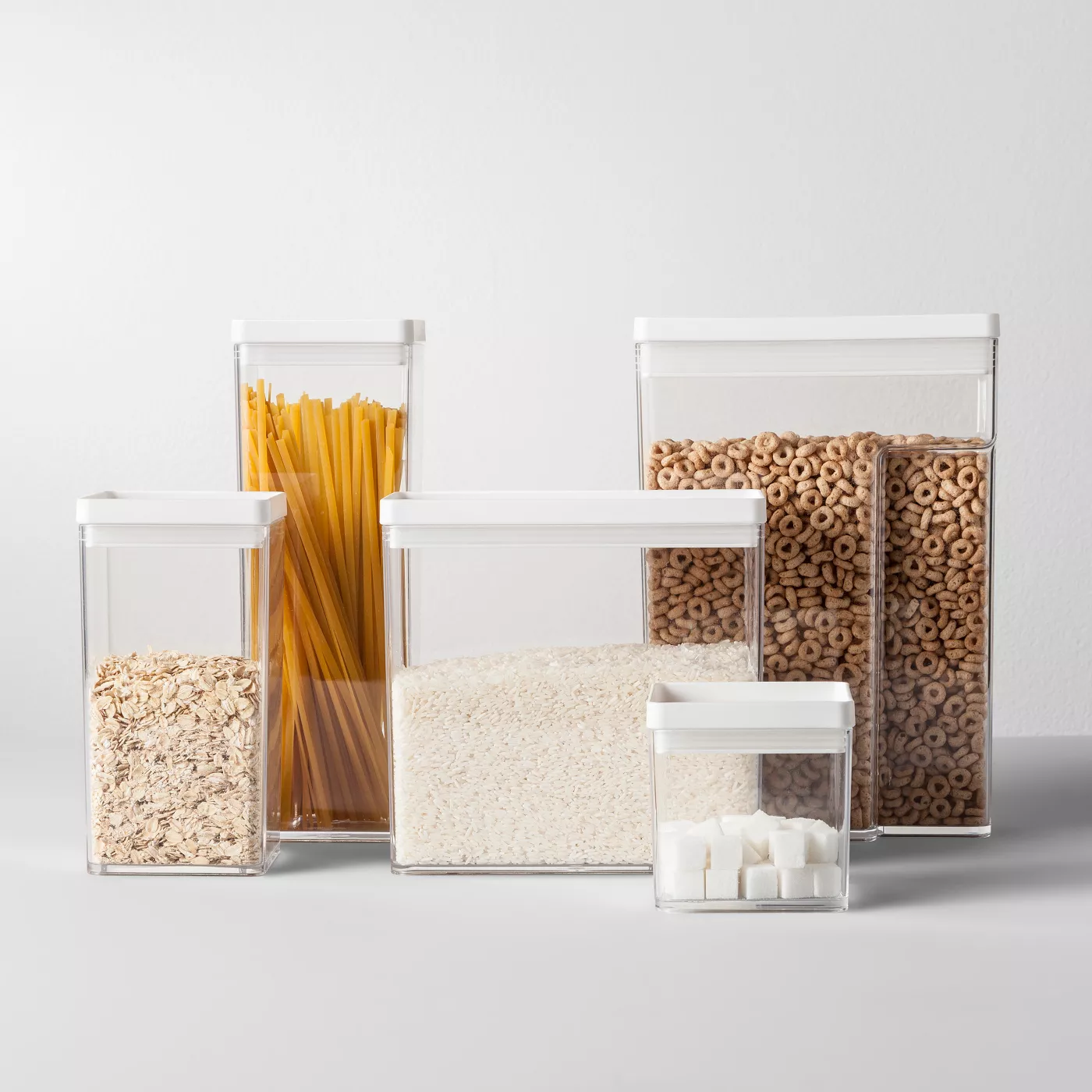 Tip #2: Get Rid of Boxes
You won't believe how much space boxes take up in your pantry, cabinets, refrigerator, etc. Remove boxed items and place them in baskets and containers.
Tip #3: Extend your Pantry with a Door Organizer
I use one of these door organizers now and it has been a lifesaver for storing canned foods and jars. Especially items such as sauce bottles, bottled water, and sachets.
This post contains affiliate links. Please see policies for more information.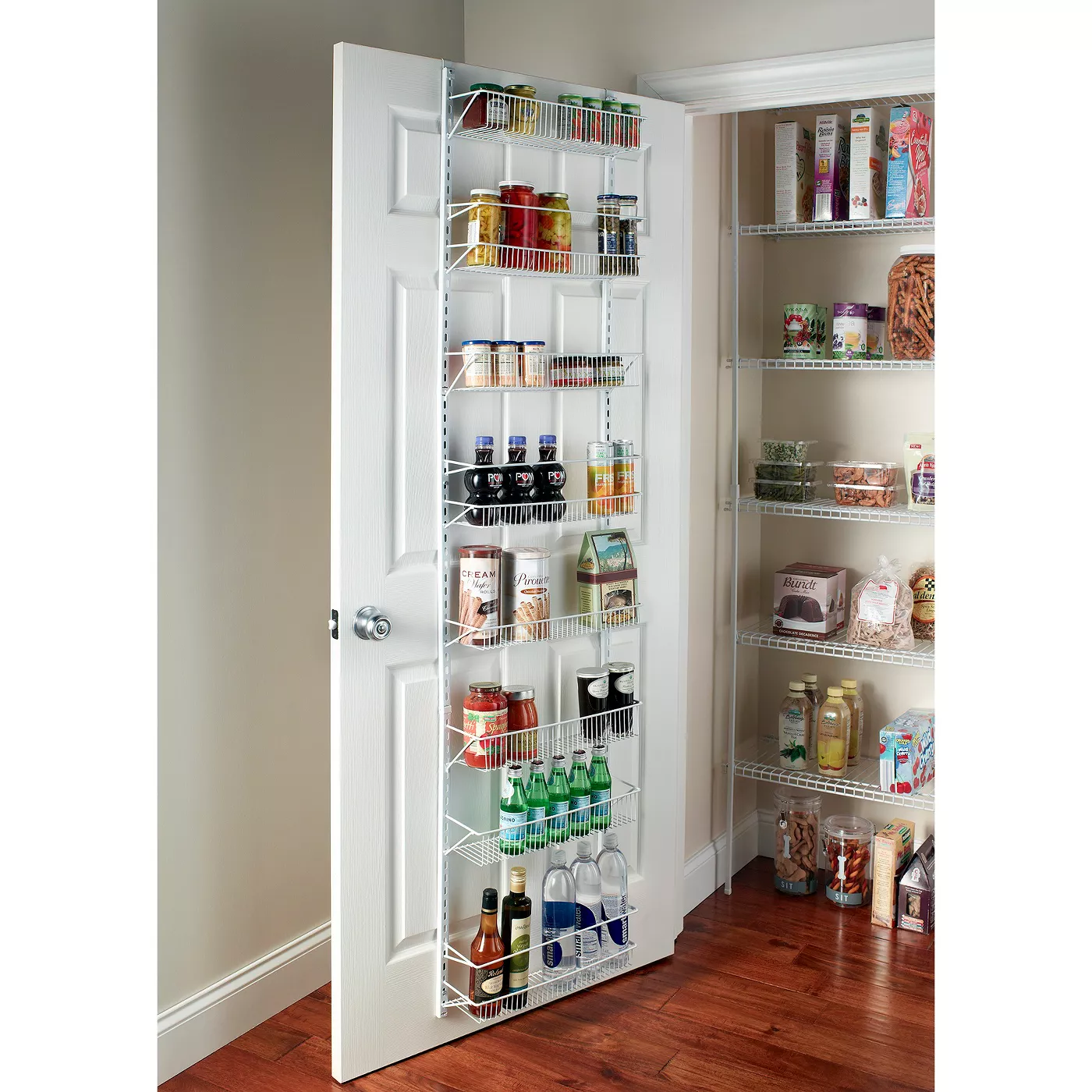 Tip #4: Place Small Items in a Designated Cabinet Area (If a door organizer is not feasible or if you still need more space)
I named this specific cabinet area of my kitchen "the pantry extension." It's where I store baking powder, chia seeds, brown sugar and so on. Also, I transfer these products and store them in mason jars for easy organization.
Tip #5: Use Plastic Containers
The number one reason I use plastics containers instead of glass is because of my kiddos. I want them to be able to comfortably get their snacks and breakfast cereal without help. They can easily handle the plastic containers and I have no fear of them breaking glass jars. Phew!
Tip #6: Use Baskets
I use baskets on the bottom two shelves of my pantry to store items that are flat or have irregular shapes. Baskets do double duty being that you can store several different items in them at a time. For example, I keep snacks such as bagged microwavable popcorn, granola bars, single-serve bags of chips and apple sauce in the baskets. This also makes my pantry kid-friendly, since the kiddos can easily access their snacks without help.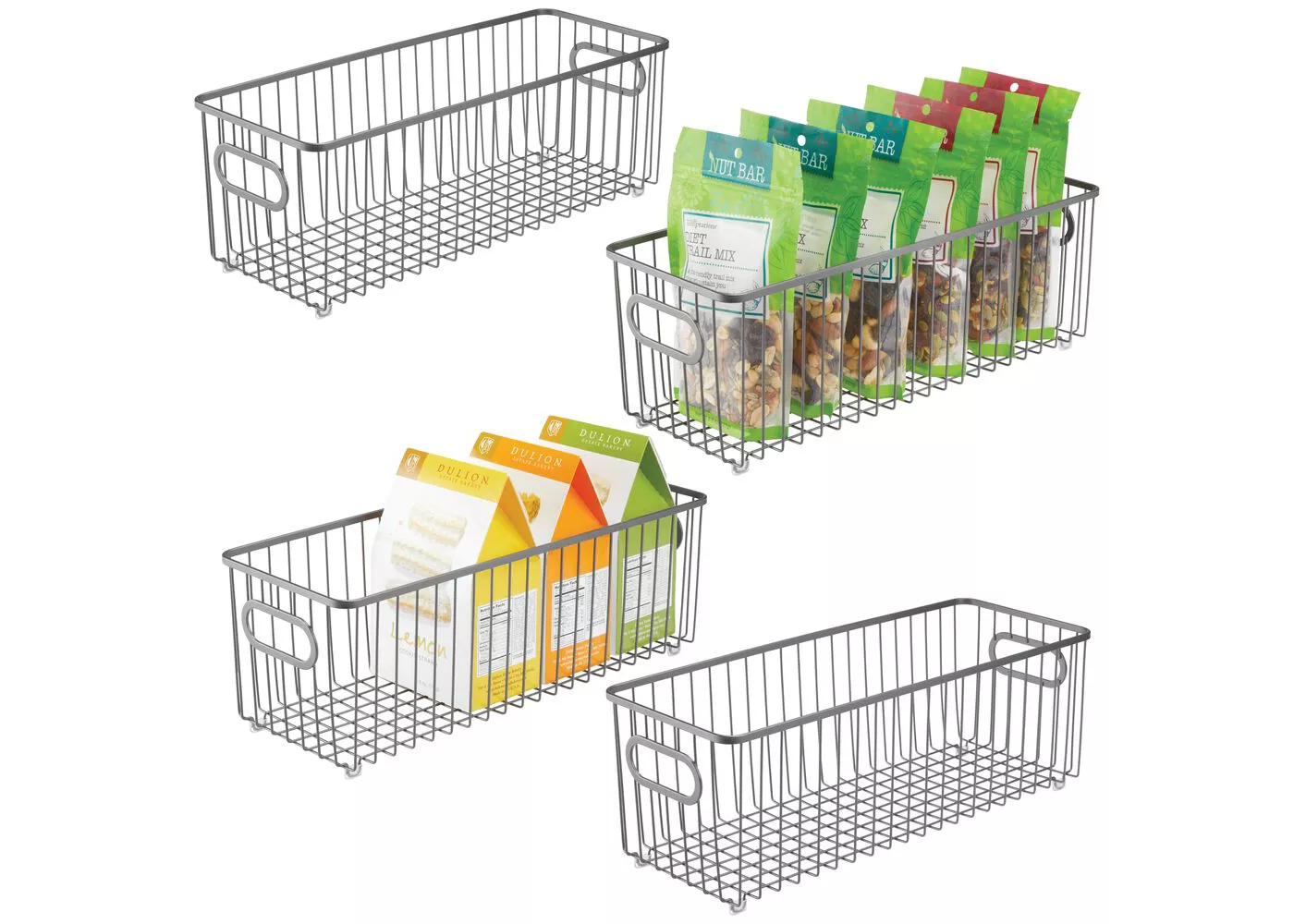 Tip #7: Don't Overload your Shelves
If you're like me, you have white wire shelves in your pantry, which adds to a cluttered pantry look. Now imagine filling up every bit of space you have on each shelf?
It doesn't look good, does it?
To reduce clutter I only keep a row of medium to large-sized stackable containers on each shelf. It helps with keeping organized and being able to quickly find what I need.
Tip #8: Keep Only Dry Food Staples in your Reach-in Pantry
I keep grain and dry foods, such as rice, beans, mashed potato flakes, quinoa, oats, cereal, and such in my reach-in pantry. I keep excess food (from bulk buys) and root vegetables in the bottom cabinet area of my "pantry extension."
Tip #9: Reuse Food Containers
Don't want to spend a lot of money to organize your pantry? Reuse dry food containers. If you consistently buy an item that comes in large sturdy containers, keep them! My favorites are pretzel and glass sauce jars.
Join my email list to get blog updates. Opt out at any time.
Processing…
Success! You're on the list.
Whoops! There was an error and we couldn't process your subscription. Please reload the page and try again.
Other Posts you will Appreciate