Believe it or not, your entryway is your guest's first impression of your home. It sets the tone for the rest of your home. It gives your guest an idea of what they can expect to see throughout your home.
This post contains affiliate links. Check policies for more information.
I have been experimenting lately with how to style my entryway for a while. I initially styled it with a hook wall shelf (see photo below) . It looked really good and was organic, just the way I like. However, I had to make some changes when I realized that the shelf hook was not kid friendly. It was a struggle for the kids to reach to hang their jackets and school bags. I chose not lower the shelf because it would interfere with sitting on the bench that was placed under the shelf for sitting while putting on or taking off our shoes. Above all, I wasn't a fan of the exposed clutter look of the entry way after the kids hung up their things. Change was definitely on the horizon. I have since taken down the shelf and will repurpose the hooks in the near future.
The first change I made was to keep the kid's things in the coat closet using over the door rack and a few DIY installed hooks on the bottom half of the coat closet door. The plan is to leave the bench as is, but hang up a large painting to leave things clean and simple. However, I'm curious to see how others style their entryway and what I can learn from them for more ideas. Stay and learn with me on this journey!
It was really interesting to find that many entryways were styled using a mix of geometric décor items. Don't be afraid to style your entryway to be as bold or subtle and neutral as to your preference (as you will find below). Go bold with bright wall paint or use a eye-catching patterned colorful wall paper to make a statement to all who enter your home. Other choices for your wall include large mirrors or a cluster of small mirrors, a large paintings, or all-over wall hooks. Furniture pieces, such as a console table or a bench provides an anchor for your entryway. Other accessory options include medium-sized faux or live plants, baskets for easy organization, and pillows and blankets as accents for your bench. Don't forget accent pieces for your console table!
Use a Large Round Mirror
I really adore the mix of geometry of the items used to style this entryway. The round black planter and the large round mirror complements the long, textured rectangular bench with round legs. And let's not forget the geometric print rug that adorn the floor and ties everything together. This entryway is simple and not overdone to the point where it looks cluttered. Don't forget to add a faux plant like the fiddle fig tree.
---
Use Bright Colors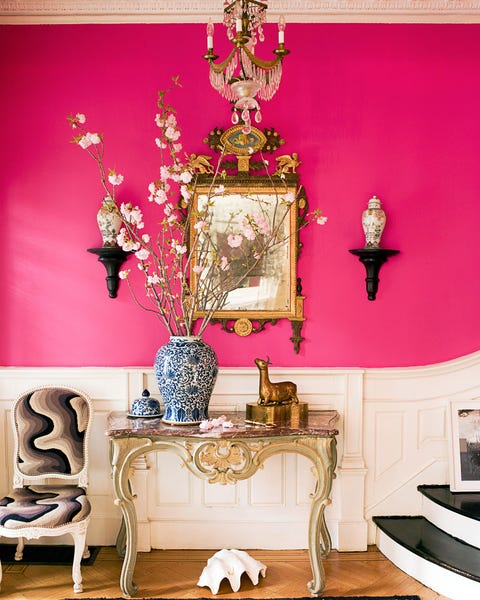 You know the saying, "Paint is the easiest and budget-friendliest way to update your home." Well, that's the saying in my own words..hehe. This bold pink wall is very BOLD and makes a statement that any other décor accessory cannot make, except maybe a wall paper that is as this bright and bold.
---
Use a Console Table
A console table should be a go-to when you need less of a functional entryway. This style is great for an entryway that does not get a lot of traffic and is more for decoration. A couple medium/small art pieces on the the wall, a few decorative accents and you're all good to go. This entryway also pulls together some geometric pieces, such as round bronze accent, the triangular wall art prints in rectangular frames, the rectangular table, the books and box. Isn't it lovely?
---
Use a Dramatic Bench
Find a bench that makes a bold statement on it's own and you'll need less on your wall and in the entryway area as a whole. The printed fabric on this bench adds color and dimension to the space.
---
Use Wall Hooks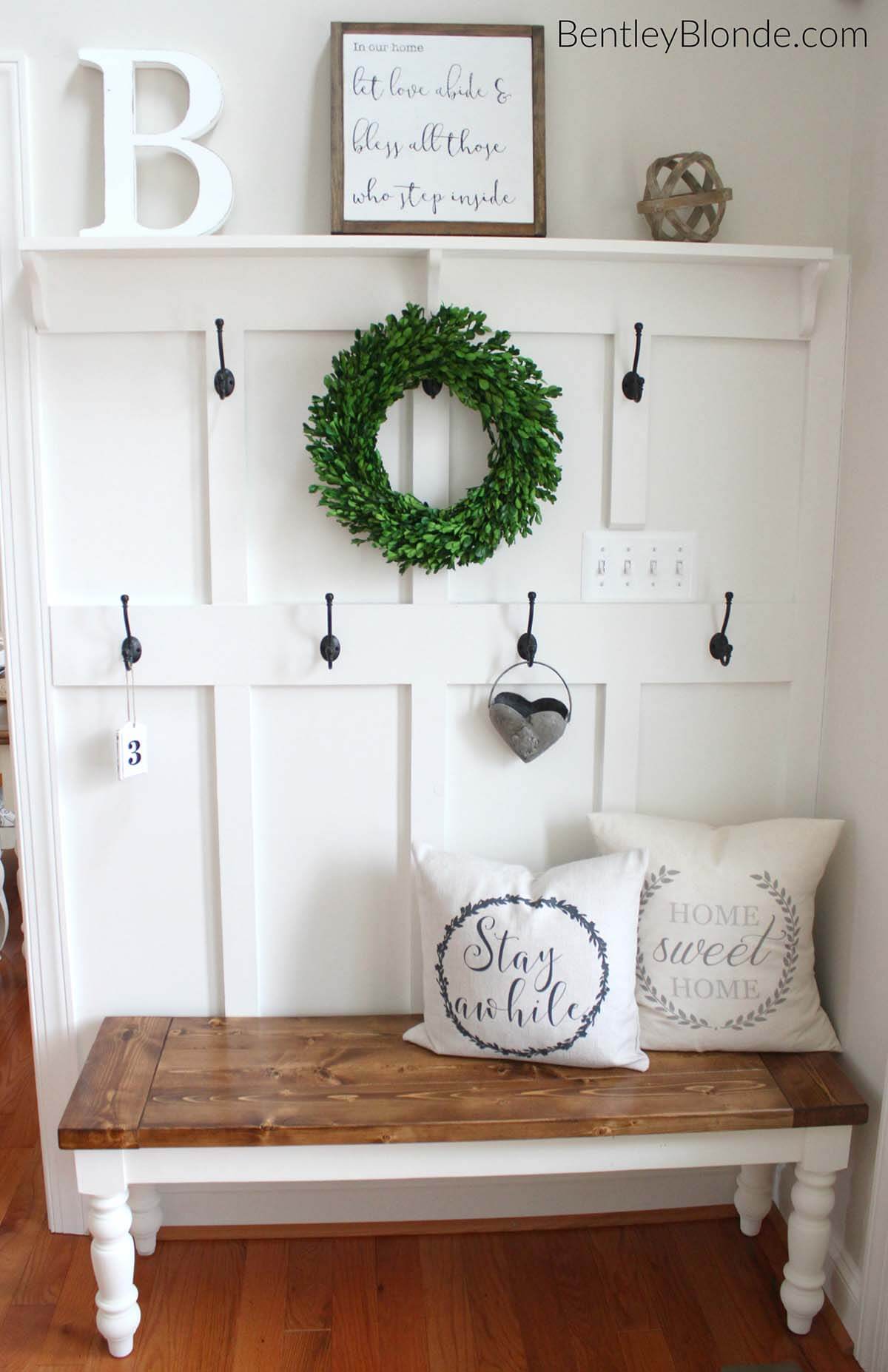 Using wall hooks in your entryway is especially important if you usually have guests over and love to entertain people. This way it's easy for your guests to hang their coats, hats and scarves (during the cold months). You, being the host, will also be glad that you don't have find extra hangers and help your guests hang their coats in your probably already stuffed coat closet. Find traditional wall hooks here or get this ready to hang hook rack.
---
Use a Bold Wallpaper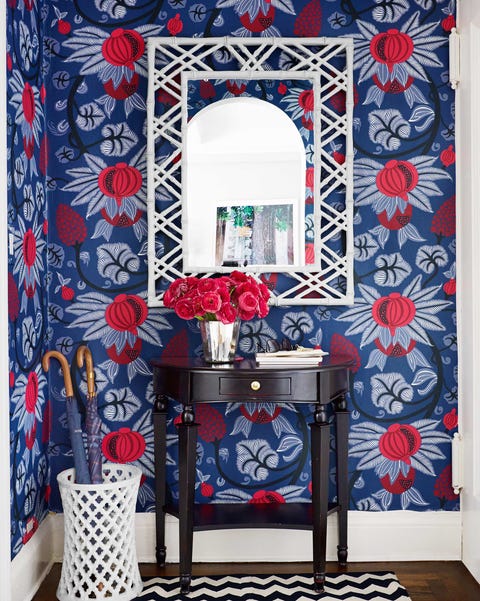 Make a bold statement with a wall paper like this! I'm sure you and your guests will be wowed every time you or they step into your home. There is a vast variety of wall paper to choose from out there. Find one that fits your style and budget.
---
Use a Large Wall Art or Mirrors
If you don't have the time to paint your entryway walls or add wall paper, feel free to hand a large painting over a bench or a console table. It gives the same effect as the aforementioned options. Make sure to scout around for a unique and original painting. You run the risk of owning a one-for-all art if your purchase a printed art. Prints are reproduced over and over again, and your next door neighbor might end up having the same piece as you.
---
Use Built-in Shelving
I must say this is the entryway of my dreams. It is just so clean, beautiful and easy to adore! The ample space provided by this design helps to store your belongings discreetly. I also like the neutral and airy colors of this entryway. The rug and baskets provide just enough texture against the white unit.
Like this post? Share, subscribe and follow me on Pinterest!
Subscribe to get Blog Updates
Processing…
Success! You're on the list.
Whoops! There was an error and we couldn't process your subscription. Please reload the page and try again.
Previous posts you will love
Get to know the 7 important tips and tools that all beginner woodworkers need to know to start building your own furniture!
Update your boring master bedroom today by creating an accent wall. See how I created this simple, blue accent wall in my bedroom.
How to build a workbench: build a simple workbench in 6 easy steps. How to build a large workbench for home shop or garage.
Latest Instagram Posts