This post contains affiliate links. See policies for more information.

Hello everyone!!! It has been a while and today I'm going to share a DIY door mirror makeover. I'm sure you know about those simple budget-friendly mirrors that you can get from Walmart or Target.
I actually bought my mirror from Lowes, but it's not available online, so here is a photo from Target.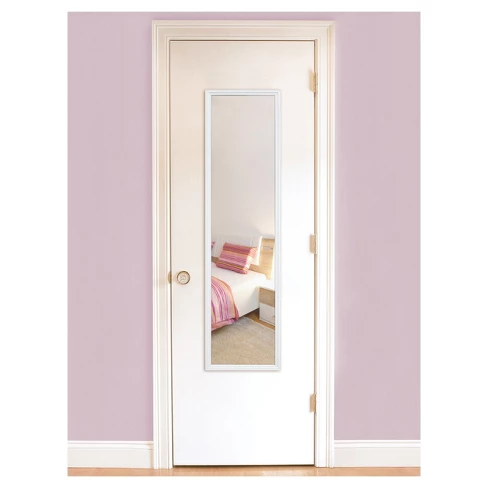 So, how did I bring new life to this cheap and simple mirror? Read on……….
---
The materials I used for this DOOR MIRROR MAKEOVER are:
Wood stain of your choice
E6000 Glue
Spray Paint
Miter Box/saw
Square wave Wood Trim
Old Newspaper
3M Wall Strips
Old rags/towels to apply wood stain
DOOR MIRROR MAKEOVER STEP 1: Spray paint mirror frame
I wanted the mirror, which had a white frame, to match stained trim. So I used several coats of the spray paint (FYI – I only painted the frame of the mirror. I covered the surface of the mirror with some old store circular/newspaper and some masking tape to hold things down)
DOOR MIRROR MAKEOVER STEP 2: Cut the wood trim
I really did not want a wide frame around the mirror because it was to be placed in my entry way. I was so happy I found this really cool trim at Lowes. I cut the trim with a miter box to match the dimensions of the mirror.
DOOR MIRROR MAKEOVER STEP 3: Stain the wood trim
I stained the wood trim using one coat of this shade of Mixwax stain. I used a old brush and several old/torn socks to apply the stain and wipe any excess as I went along. Make sure you have disposable gloves on for this step. I have used wood stain several times without gloves, and it can get sticky and gooey on your hands and hard to wash off.
DOOR MIRROR MAKEOVER STEP 4: Glue the stained wood trim to the mirror frame
In this step, I applied glue all around the frame. Then carefully placed the stained wood trim pieces on the frame sides. I placed items on the trim as weights to help the E600 glue adhere better. I let it dry for over 24 hours and my mirror was ready for hanging.
DOOR MIRROR MAKEOVER STEP 5: Hang mirror
The thing that sucks most about these simple mirrors is that they are REALLY simple. They come as plain as can be, without wall hooks, door hanger or anything that will help you hang it on a door! So to resolve this issue, I simple used 8 strips of 3M wall hanging strips. These things are a life saver! Could be a bit pricey, but it's well worth with.
Also read: How to Update A Thrifted Nightstand
More Details:
Q: How long did it take to complete this project?
A: You can complete this DOOR MIRROR MAKEOVER in about a few days (for spray paint, stain and glue to dry)
Q: How much did it cost you to complete this project?
A: I had most of the materials on hand, expect for the wood trim, which was $2.99 per 6′ cut, and I used 2 for a total of $6.36 (tax incl.)
Q: What is the level of difficulty for this project?
A: Easy – medium. It could be tasking for someone who is not used to using a miter box or have never used wood stain before. Always do your research to find out how to use or do things on Youtube. Yes, YouTube is a really good resource, especially when you're not sure of what your doing.
---
SUBSCRIBE for blog updates!
Processing…
Success! You're on the list.
Whoops! There was an error and we couldn't process your subscription. Please reload the page and try again.
See what I'm Pinning?
Recent Blog Posts
Coffee tables are a must to have for a complete living room look. Find out how to style your coffee table and cool accessory decor now. Coffee table decor ideas.
Upgrade your spaces with these options of glam and unique wall sconces for any room in your home.
DIY glam gold sunburst style wall . How to make a Large DIY Glam Wall Decor. How to Make a Large DIY wall Decor