DIYers don't spend money on things they can make.
And that's my story when it comes to creating a large multi-paneled floor mirror.
I had been eyeing a few of these for a while and as you can imagine they are very pricey.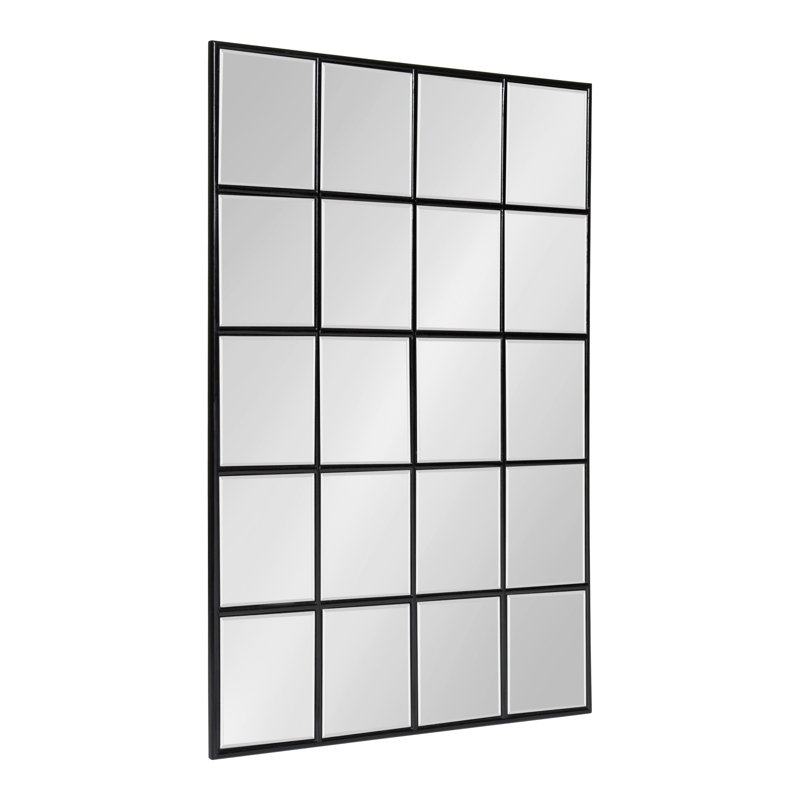 This Berrien Beveled Accent Mirror is from Wayfair and cost about $200, but it's not a floor mirror. The Amiel Arch Aged Brown Antiqued Mirror from Ballard Design is a floor mirror and costs about $700 dollars.
So being a true DIYer that I am, I set out to make my own!
You can customize this project by choosing the pattern and size that fits your space. But I will include all my measurements in case you want to make the exact one I made.
Finished Mirror: 35.5″ x 67.75″
Plywood: 34.5″ x 66 5/8
Mirror Grids: 11.5″ x 9.5″
---
Materials:
1/2″ thick sheet of Plywood (Home Depot or Lowe's)
Dollar Tree Mirrors (framed) – 24
3/4″ x 1/2″ Wood Dowels (to frame the edges of your large mirror – Lowes or Home Depot)
Steps:
Spray paint the mirror frames. (I ordered a box of mirrors from the Dollar Tree online store since I needed quite a few and did not want to spend time scavenging through the local Dollar Tree stores in my area. Remove the mirrors from the frames and spray paint them black or whatever color you choose.)
Frame the plywood using the square dowels. I used a miter saw to make 45 degree cuts for the corners. Nail the square dowel pieces to the plywood using a brad nailer. You can also just use wood glue for this step, but do let it dry for about 24 hours before moving on to the next step.
Spray paint along the edges of the now framed plywood.
Reframe the mirrors back into the original frames that have been spray painted.
Apply locklite glue to the back of each mirror and arrange them as you have planned.
Allow the glue cure and dry for at least 12 hours.
Clean each mirror on your completed gird to remove any dust and finger prints .
You're done and ready to style it. Please beware that you will need help to move it. It is very heavy!
The Finished Look: DIY Grid Mirror
What do you think? Is this a DIY project you would consider?
SUBSCRIBE to get Blog Updates
Processing…
Success! You're on the list.
Whoops! There was an error and we couldn't process your subscription. Please reload the page and try again.
Recent Blog Posts
It's week 4 of the One Room Challenge – 2022, with but I'm just making my first post because, well, life. I love all things DIY, interior design and decorating and I can't wait for the day I get to dedicate my daylight hours to it completely, but I'm thankful for the little I'm ableContinue Reading
How to build a workbench: build a simple workbench in 6 easy steps. How to build a large workbench for home shop or garage.
Are you looking for ways to decorate your home without breaking the bank? Check out this long list of ideas on how to update your home on a budget!
Follow me on Instagram
Follow me on Pinterest